[ad_1]

Day 2 (July 19): Hot Springs, AR
The hotel that we stay is closer to the National Park, so in the morning we hit the street walking to Hot Springs National Park… One of the uniqueness to this park is that its right in the downtown
There are free parking structures distributed across downtown. The one closer to national park fill up pretty quickly
The Bathhouse Row has eight bathhouse buildings that were constructed between the years of 1892 and 1923.
Few of the Bathhouse has been taken over by national park and is used as antique shop and welcome center
Then we hit Grand Promenade Trail that runs parallel to bathhouse row, behind the bathhouses. It's about a half mile long and made entirely out of brick.
The bathhouse row street has many thermal water fountains. You can bring your own bottle and fill it with hot natural water .
Hot Sprints Rehabilitated Army & Navy Hospital, the first general hospital in the nation that provided treatment to both Army and Navy patients. It was opened in January 1887 and has lots of history (including World War II)
We walked back to our hotel and took some rest. After having our lunch, we headed to Hot Springs Mountain tower. The drive was very short and windy. It can be reached through trails too. It provides a nice view of Hot springs and surrounding mountains
View point near mountain tower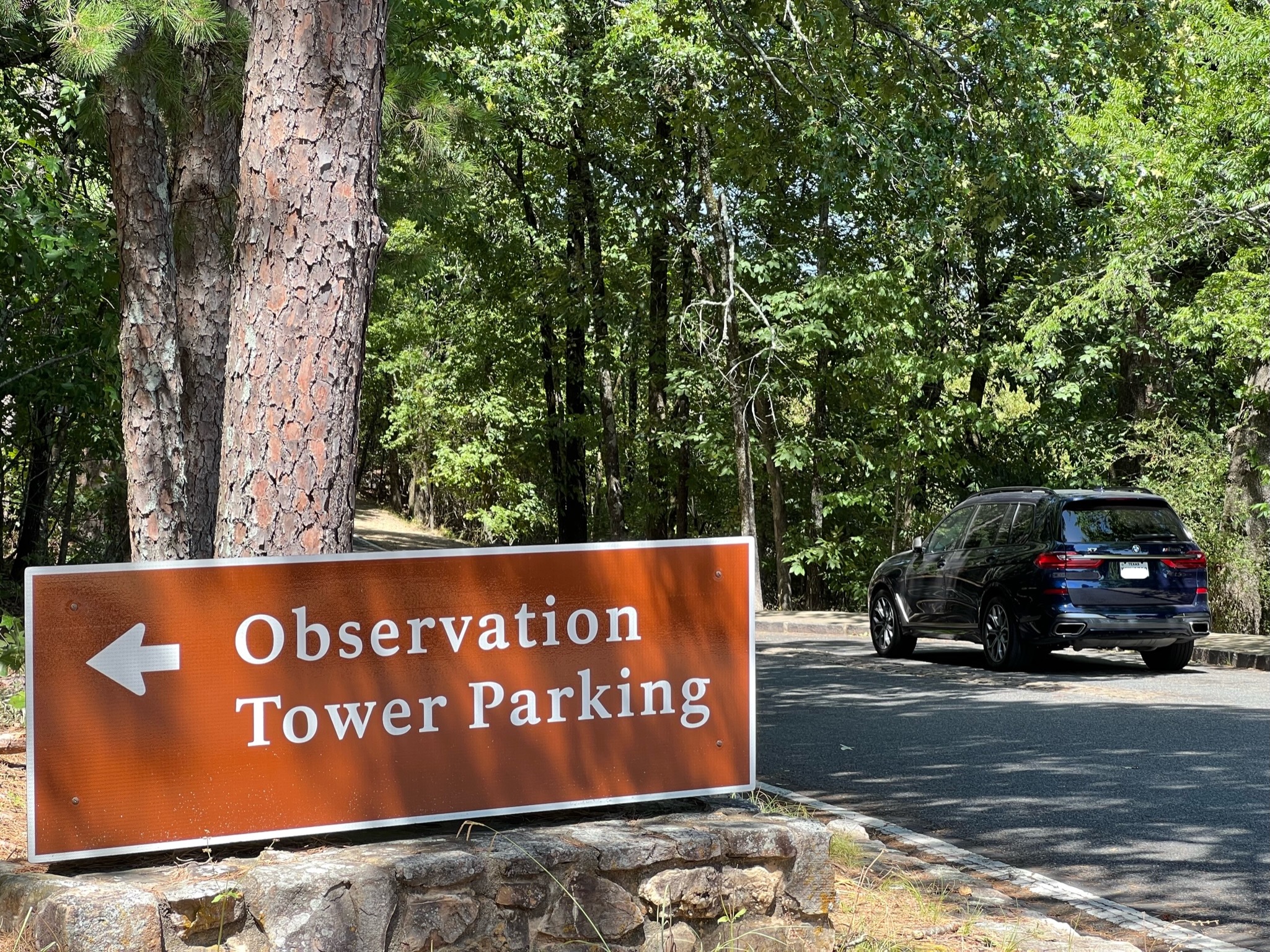 The Hotel that we stayed from observation deck
Birds eye view of Hot Springs downtown
Parking space from observation tower
Mountain tower from the base with scorching sun
We bought some souvenirs and returned to Hotel. We originally planned to stay for two days to go around, But with most of the things covered, we felt that there is not much in here for more than a day. So we had change of plan and thought of driving half way to Smoky mountains and stay there so we would do two 4.5hrs drive than one 9 hrs drive.
Drive Summary:
Total Miles driven: 484 miles
First re-fuel : 215 miles (Rockwall, TX)
Fuel cost per gallon: 4.039 (Costco)
Fuel Type : 93 Octane
Mode : Adaptive, Adaptive Cruise
Speed Maintained: ~75miles/hr
A/C : 73
Milage : 20.6
Second re-fuel : 269 miles (Hot Springs, AR)
Fuel cost per gallon: 4.639 (Phillips 66)
Fuel Type : 93 Octane
Mode : Eco Pro, Eco Pro cruise
Speed Maintained: ~75miles/hr
A/C : 73
Milage : 21.4
I was using Apple Maps through Apple CarPlay and it disconnected couple of time. I think it might be because I'm running Apple iOS beta 16.0 ( I didn't have this issue in the past). We had stored as favorites all locations that we are visiting in Car's Navigation and it help while having issues with Apple CarPlay
---


Last edited by Mail4loys; 07-23-2022 at

06:25 PM

..





[ad_2]

Source link